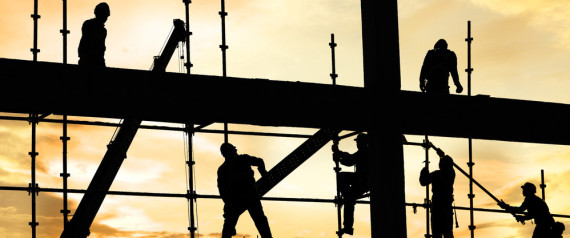 Given reader interest in last year's labour day post, here's a follow-up. As touched on then, historically, Canadian labour unions have had issues representing racial minorities in Canada. In what was meant to appear as an effort to address this shortcoming and get with demographic reality, over the last couple of years several Canadian labour organisations elected racial minority members as either presidents or executive council members.
Last year's post highlighted a 2010-2011 survey conducted on behalf of the Canadian Labour Congress (CLC). The reported results indicated only 15 of 52 CLC affiliates even bothered responding to the employment equity survey, with just 2 respondents indicating they'd implemented a program to assess racial diversity. But that was before all the newly elected minority labour execs took office. So how have things progressed since then?
Last year's post referenced a Labour Day 2014 article written by a friend of this site, which also reflected on Canadian labour's historical issue with minority representation. The CLC read that article, as well as last year's post referencing it. Its Women's and Human Rights Director (yes, that's the official title, in that order) subsequently provided a response to the issues raised therein, quoted in its entirety below:
Rachel's piece was critical of the CLC's inactivity in general, claiming that we weren't talking about the issue – staffing practices was only one slice of her critique, which was poorly formed. My point in linking the piece was to demonstrate that the CLC is very aware of the changing demographics of the labour movement and the need to respond accordingly. As for hiring, we don't publish stats on our workplace diversity, but we did do a gender and equity survey in 2010 and 2014 and reported those results to our convention. the summary report for 2014 is not yet on the website, but there were aggregated results for the respondents as a whole. Unfortunately not all of the affiliates participated – although they may have reported on such matters to their own membership using their own processes.
At its 2014 annual convention that saw CLC elect its first racial minority president, along with a racial minority exec, a policy document entitled Setting the stage for union renewal: Changing demographics in the workforce was presented – "the piece" referenced in the response quoted above. That title is misleading at best; the doc provides no information on diversity within the Canadian labour movement in general, nor CLC and its affiliates in particular. Rather, disturbingly, it's a rant against temporary foreign workers. It seems CLC equates 'changing demographics' with pesky temporary foreign workers taking over Canadian jobs. So wrong on so many levels, but that's another topic.
That CLC response was received on October 14, 2014. No further information or update has since been received regarding the referenced 2014 survey summary report. A search of the CLC site for the report yielded no results.
Furthermore, the 2010 survey reports that were referenced in last year's post appear to have since been removed from the CLC site. For readers interested in the 2010-2011 survey report, cached copies are provided below:
Advancing Equity by the Numbers and Reporting on Past Promises – Part 1
Advancing Equity by the Numbers and Reporting on Past Promises – Part 2

It would appear Rachel's comment regarding the CLC's inactivity wasn't warranted after all. The CLC did in fact act — to remove from its site content that did not reflect positively on the org, and presumably had a meeting at some point to decide not to post the results of a follow-up survey.
To conclude, it's worth commenting on the wording of the CLC response: "Rachel's piece was critical of the CLC's inactivity in general, claiming that we weren't talking about the issue." Actually, Rachel's piece was critical of inaction on the part of Canadian labour with respect to addressing its remarkable diversity deficit, not the absence of "talking". That CLC apparently can't distinguish between talk and action with respect to diversity is one thing. That it chooses to demonstrate its commitment to diversity by sending along a rant against temporary foreign workers is troubling.